Digitale Erlebniswelt im Pop-Up-Store umgesetzt
Description
MOONCITY Vienna ist ein außergewöhnlicher Store zum Trend E-Mobility, der deshalb auch eine außergewöhnliche Umsetzung verdient. U.a. wird diese mit lichtstarken LEDs in der dreistöckigen Auslage, besondere Screen-Systemen im Store sowie Retail Analytics für die nachhaltige Datengenerierung gewährleistet. Die als Pop-Up-Filiale konzipierte MOONCITY Vienna bringt Kund:innen auf spielerische Weise alles rund um das Thema Elektromobilität näher – von der Ladestation über nachhaltige Energieerzeugung bis zu den unterschiedlichsten Fahrzeugmodellen. Aufgabe der Digitale Mediensysteme GmbH (DMS) war es, diese Reise zwischen temporärem Autohaus, Merchandise-Store und Bildungsfunktion physisch und digital zu begleiten. Das gemeinsam entwickelte Konzept hat anhaltenden Einfluss auf das Markenimage, das von Anfang an auch messbar und sichtbar ist.
In den acht großen Schaufenstern in den oberen Stockwerken lockten seit der Eröffnung rund 70 Quadratmeter LED-Fläche rund 50.000 Besucherinnen und Besucher in den Store. Bereits am Eingang erhebt ein Frequenzmessungs-Tool intelligent Besucher:innen-Daten, welche für den/die Storemanager:in live in einer App und im Web ablesbar sind.
Im Inneren hat DMS ein Screensystem verbaut, welches perfekt für die Ansprüche der MOONCITY Vienna ausgelegt ist: schnell zu installieren, Content einfach zu wechseln, Möglichkeiten, andere Formen der Aktivierung wie zum Beispiel Spiele zu integrieren, und das alles skalierbar(!). Diese innovative Lösung wurde teils in einzelnen Screens und teils als beeindruckendes Videowall-Mosaik verbaut.
Solution features
Solutions & Operations
Communication Technology
Information Technology
About the solution
| | |
| --- | --- |
| Name: | Ganzheitliche Digitalisierung mit Digital Canvases, LED's und Retail Analytics |
| Technology: | Digital Canvases, LED-Wall, Retail Analytics |
| Project goal | E-Mobilität erlebbar machen. Unter dem Dach der meistbesuchten Einkaufsstraße Österreichs werden alle Komponenten von der Ladestation bis zum 720 PS Sport Coupé für alle zugänglich gemacht. Es wird informiert, beraten, vorgeführt, inszeniert, begriffen, verstanden und erlebt. Um all das bestmöglich digital zu unterstützen, hat DMS ein spezielles Screensystem verbaut, ein Retail-Analysetool installiert und die Schaufenster mit LED-Wänden bestückt. |
| Project scope: | Durch den Pop-Up-Store Charakter der MOONCITY Vienna musste eine flexible, rasch installierbare und leichte Screen-Lösung verbaut werden. Die Digital Canvases der Marke Videri sind dafür perfekt geeignet; ihre Orchestrierungsfunktion bietet darüber hinaus einen modernen Blickfang. Um auch von außen mit dynamischen Inhalten Gäste in den Store zu holen, wurden 70 m2 LED-Fläche verbaut. Das hat dazu beigetragen, über 50.000 Besucherinnen und Besucher anzuziehen. Um diese KPI zu ermitteln, wurde ein platzsparendes Frequenzmesssystem installiert, das laufend Live-Daten liefert. |
| Innovation: | Die speziellen Screensysteme zeichnen sich durch ihre extreme Leichtigkeit und die überaus rasche Montage aus. Die einfache Einbindung auf und in fast alle Oberflächen und Umgebungen war in diesem Projekt sehr vorteilhaft, da nur 2-4 Schrauben zur Befestigung der Screens notwendig sind. Zum Messen der Performance (Werbewirkung) der Screens und der LEDs in der Auslage dient das installierte Analytics-Tool. Dieses konnte in Pandemie-Zeiten mit der Kontrolle der Zutrittsbeschränkungen eine weitere praktische Wirkung entfalten. |
| Costs: | Um dem Pop-Up-Store-Charakter der MOONCITY entgegenzukommen, wurden die gesamte Lösung als Mietmodell bereitgestellt. |
| Replication: | Anwendbar ist die gesamte Lösung und in ihren Einzelteilen an jedem Point of Sale als auch Point of Interest. Das Screensystem eignet sich durch die Flexibilität in der Montage in jeder Umgebung, besonders im Event- und Messebereich. Die Analytics-Funktion wird in Zukunft für viele physische Standorte eine große Rolle spielen, um die Customer Journey noch präziser verfolgen und gestalten zu können. Das integriert und optimiert sämtliche Marketingaktivitäten im Store. |
Use Favorite for your own search profile
Contact Me
Schedule a showing?
Similar Cases
STI Group Inspiration-Store
STI Group Inspiration-Store
Award Sept. 2022
Retail Technology
GALERIA Karstadt Kaufhof GmbH
GALERIA Karstadt Kaufhof GmbH
Award Sept. 2022
Retail Technology
Globetrotter Ausrüstung GmbH
Globetrotter Ausrüstung GmbH
Award CH 2022
Retail Technology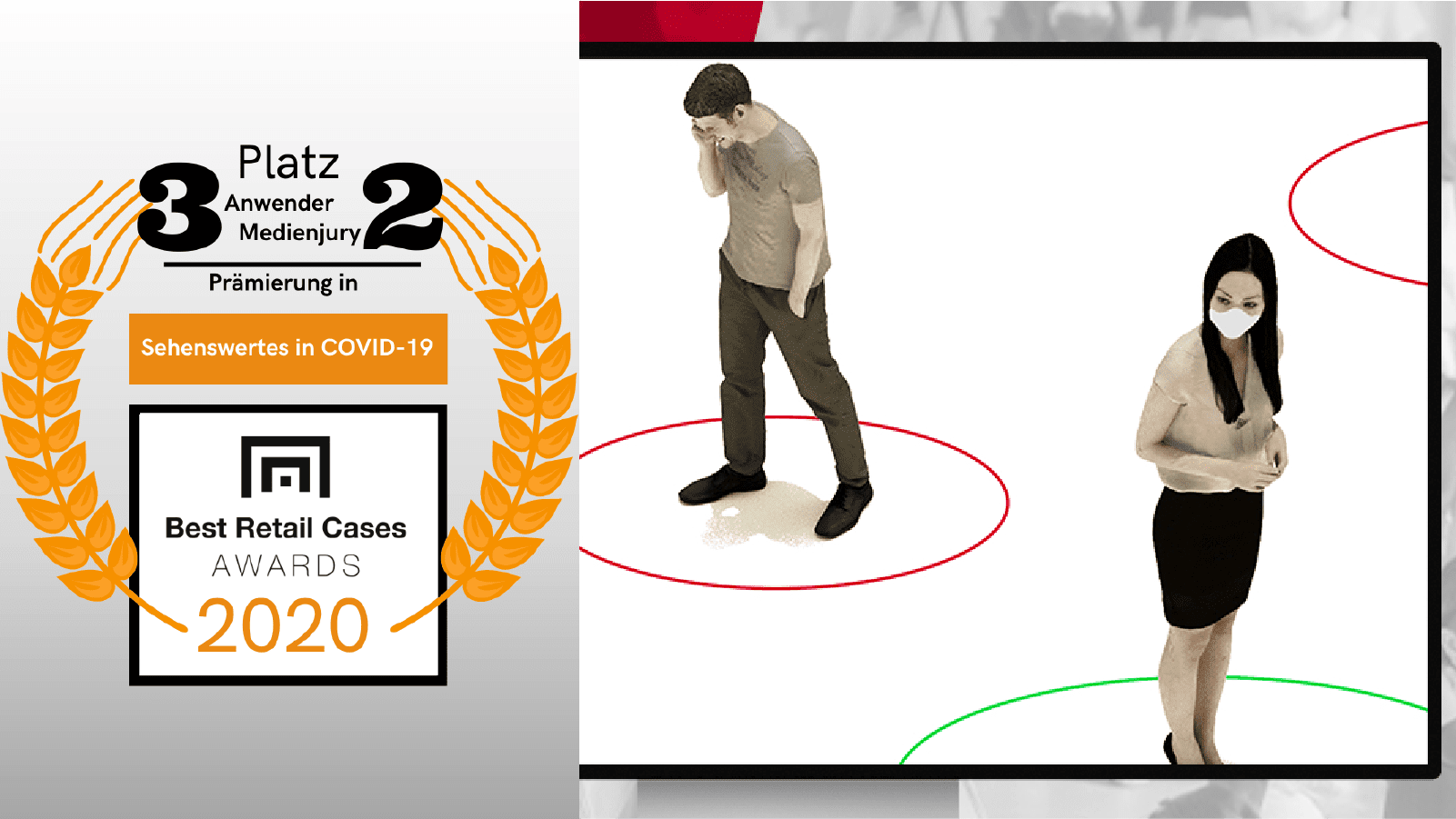 Award Sept. 2020
Retail Technology
Aldi Süd, Aldi Nord, Aldi Suisse, Lidl DE, Lidl CH, Migros, Coop, Edeka
Aldi Süd, Aldi Nord, Aldi Suisse, Lidl DE, Lidl CH, Migros, Coop, Edeka